Devour me, there is nothing to fear!
One night, days with the rolls of drums, one hears cries, calls for help,
the earth trembles but we desire,
desire to touch, to be with the other, to plunge headlong into the unknown
not to think, to breathe, to let oneself become another, to allow oneself the impossible, the extravagant.
Never fear, our hearts are wide,
love, love hold me tight, love love hold us always.
All audiences
2 performers
Running time: 30 min
Choreography Christian Ben Aïm assisted by Moustapha Ziane
Creation and interpretation Anne Flore de Rochambeau & Steve Guimaraes
Music A Tribe Called Red – Electric Pow Wow Drum / Ben Howard – Esmerelda / Erik Satie – Gnossiennes N°1 / Jean Satiste Sabiani – La légèreté des tempètes / Silver Mt Zion – For Wanda / Ibrahim Maalouf – They Don't Care About Us
Artistic dossier on request: tournees@cfbenaim.com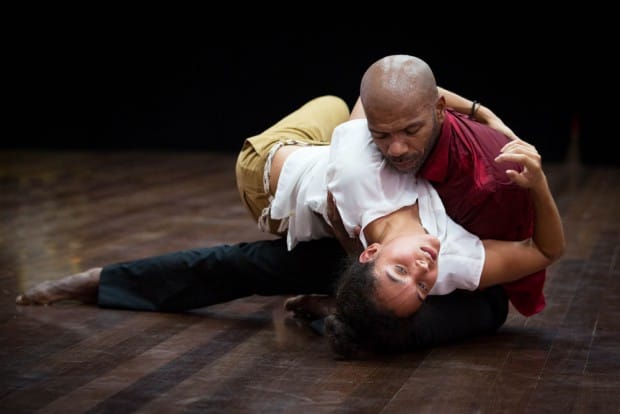 Acknowledgements
I thank Norma Claire for her trust and for her invitation. This creation is the fruit of the meeting of three artists who got to know each other and discover during 3 weeks. A very big thank you to Anne Flore and Steve for their commitment and their presence.
Christian Ben Aïm